Watch this heartwarming video of Hayden Kristal and her furry companion, Bitsy, showcasing their beautiful bond. Despite initial concerns from Hayden's father, Steve, about how a deaf and blind puppy like Bitsy would cope in life, it is evident that she is enjoying her best life with her human family. Once Steve saw how active and lively Bitsy was, his worries were replaced with joy.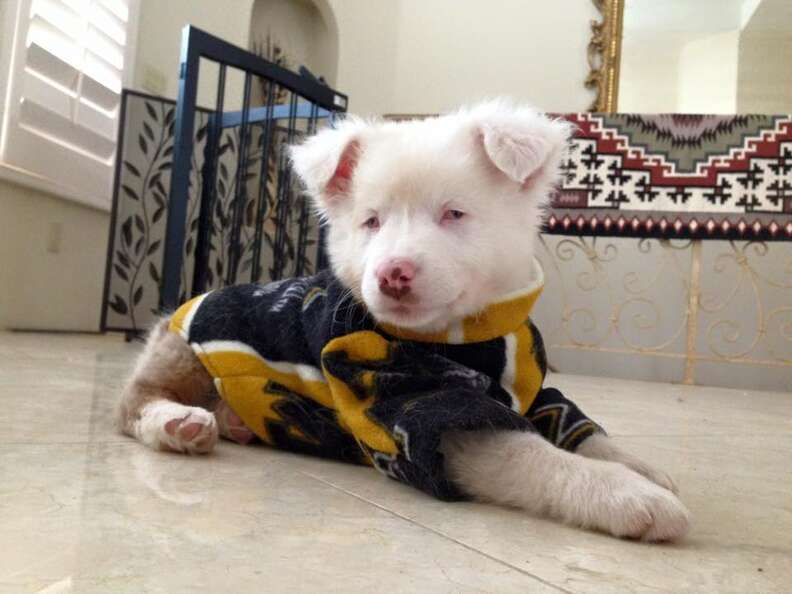 Hayden Kristal states that since the day they brought her home, Bitsy has been an independent and self-reliant dog. Kristal recounts the story of how Bitsy immediately went to her food bowl, ate until she was tired, and fell asleep. Despite her grandpa's initial perception of her as a weak dog, Bitsy has proved him wrong by accompanying her mom on countless adventures across the country, such as hiking, canoeing, riding the subway, and even skateboarding. With a bold and sassy personality, Bitsy is described by Kristal as a sweet, friendly, loving, and loyal dog who loves to explore and try new things.
In a heartwarming Facebook post, Hayden Kristal sheds light on the unique relationship between her dad and his beloved granddog. Despite living far away from each other, they try to make the most of their time together whenever they can. Her dad dotes on Bitsy and lavishes her with toys and treats, never missing an opportunity to sing her praises to anyone who will listen. Unfortunately, due to the pandemic-induced restrictions last year, Kristal and Bitsy had to put their lives on hold and stay away from their loved ones, including her dad.
Bitsy and her grandfather Steve were finally able to meet each other after a year, which turned out to be an emotional moment for both of them. Initially, Steve was worried that Bitsy might not recognize him, but his anxiety was unfounded. As soon as Bitsy caught his scent, she became overjoyed, which moved Steve to tears. Steve was amazed by Bitsy's unconditional love, which he expressed on Facebook. He stated that despite her limitations, her ability to love was far beyond anyone's expectations. A video recorded during their reunion captured the palpable love between Steve and Bitsy.
Upon reuniting with her beloved dog, Steve Kristal felt overjoyed that her loyal companion had not forgotten the love and care she had given him. The world seemed brighter now that their family was complete once more. It was a heartwarming moment that served as a reminder of the unbreakable bond between humans and animals.
The story takes a somber turn as we hear the tale of a dog who had spent a lifetime chained to a wall. It's a heartbreaking situation that elicits a wave of emotions when the dog is finally freed from her captivity. Tears stream down her face as she experiences freedom for the first time, marking the end of years of confinement. Witnessing this touching moment highlights the resilience and emotional depth of dogs. It also underscores the importance of compassion towards animals and the potential impact that intervention can have on their lives. These tears are no longer ones of sadness but of liberation and hope, reminding us that even in the darkest of circumstances, there is always a chance for a happy ending.